Nearly Invisible Clear Aligners in Sun City, AZ
If you want to realign your teeth without drawing attention to yourself, we encourage you to learn more about invisible aligners from Invisalign®. Smile Sun City takes pride in giving patients their ideal smile by offering clear aligners at our Sun City, AZ office. Our team comprises certified professionals who recommend, apply, and perfect invisible alignments solutions for our patients daily. You can rely on our team to provide a healthy, beautiful smile and optimal oral health for you and your family. Reach out to learn more about the clearest alignment solution.
Why Should I Consider Invisalign® Aligners?
Many adults and teens are choosing Invisalign® for their effectiveness, convenience, and comfort. They are a nearly invisible solution that gracefully aligns teeth over time. Patients are bidding farewell to traditional metal wire braces and enjoying the many benefits that clear aligners offer. We recommend choosing clear aligners if you want:
More Comfortability – Using advanced 3D technology, we customized clear aligners to fit your mouth's size and shape precisely, boosting your comfort level.
A Better Look – Clear aligners are almost totally invisible. When you smile, others can hardly tell you're wearing your aligner trays.
Easy Maintenance – Invisalign® is removable. You can take them out before bed to let them sanitize overnight, and they'll be good as new in the morning.
Zero Hassle – Take your clear aligners out before eating, drinking, taking photos, and more. Clear aligners offer the most convenience.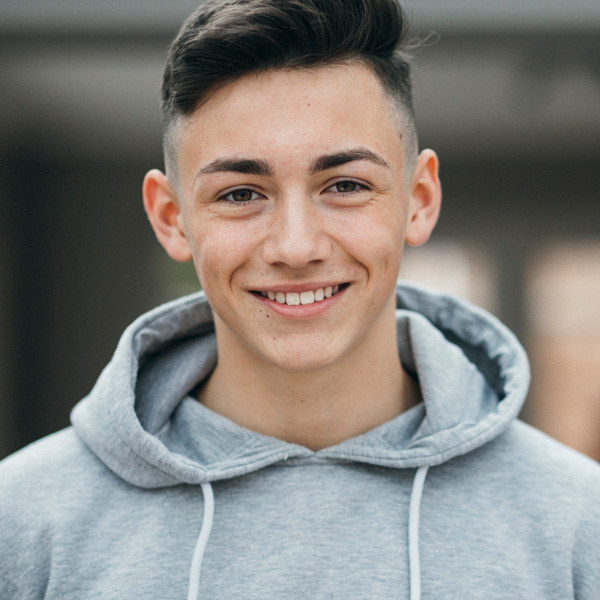 Custom Clear Aligners Tailored to Your Smile
Invisalign® is the most precise choice for our teeth alignment. The advantages of choosing clear aligners over traditional wire braces are many. Patients choose them because they correct many teeth conditions, and they do so under the radar. Misaligned teeth, crooked teeth, gaps, and underbites can all be straightened and improved without your or anyone else noticing. The specialists at Smile Sun City stand by Invisalign® and proudly recommend it to our patients who want to enhance their smiles.
Are you interested in exploring Invisalign® further? Our team can discuss your candidacy during your consultation. If you determine that clear aligners are the right choice for you, we can immediately begin taking 3D scans of your mouth and create a customized solution that shifts and realigns your teeth easily. A straighter, clearer smile awaits you.